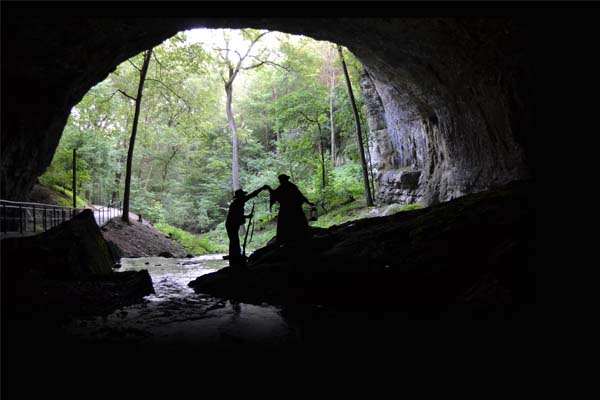 Group Rates and Information
Are you looking for a place for your group to have a memorable team-building experience? Smallin Civil War Cave is a perfect setting for your special event! Beautiful Smallin Cave stretches for a mile to the north, with a massive ten-story wide arched entrance that has fascinated and inspired many generations of people dating back to the ancient Native Americans.
Inspire YOUR group with a one-hour guided tour through this natural and historical wonder.
Group rates start at $10.95 per adult and $7.95 per child, with options for extra activities to add to the fun!
Our 26 foot tall Fossil Bluff Climbing wall offers a thrilling and safe challenge, and the young miners in your group would love to find gem and fossil "treasures" at our sluice mine.
For our most adventurous explorers, we don caver helmets and lights, and step off the trail into the mysterious depths of Smallin Cave on our Wild Adventure Tour.
Our picnic pavilion is available for pot luck, sack lunches, or catering, and there is no charge for our guests.
Private spaces are also available to reserve for your meetings and picnics.