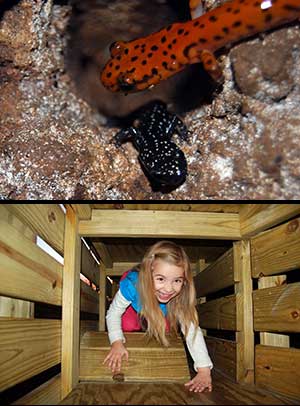 Prices & Information
Cave Tours start at $6.00 per student!!! Smallin Cave is a geological wonder, teeming with life. Your visit will often include sightings of bats, salamanders, and the rare Bristly Cave Crayfish. Smallin Cave is rich in human history; Native American, Pioneer, Civil War, and Baldknobber history. Visible from the trail are fossils from an ancient ocean, including starfish, shark teeth, sea snails, and more! On our paved nature trail, see the Ozarks Woodland through the perspective of Osage, Pioneers and Scientists. Junior Miners can collect mineral and fossil treasures at our sluice mine! Our indoor classroom teaches basic geology, with a hands-on look at fossils and formations. Our gift shop is filled with affordable historic and educational merchandise. For the more adventurous, our 26' tall Fossil Bluff Climbing Wall offers a safe and fun challenge.
Cave Tour
Build Your Own Field Trip
One hour long guided cave tour of Smallin Cave. Students will learn about the cave geology, history, and will have the chance to see rare & endangered cave life!
Additional activities listed below may be added to the cave tour for the price listed per student

Students
$6 tour


Bus Driver FREE


Gemstone Panning - $1.50
Fossil Panning - $2.00
Hands-On Classroom - $2.00
Guided Nature Walk - $1.50
Fossil Bluff Climbing Wall - $4.00
Crawl Fort - FREE
Picnic Pavilliio - FREE
Prices listed are for groups of 20 or more One teacher per 20 students is admitted free. All bus drivers are free. Smallin Cave is wheelchair friendly.