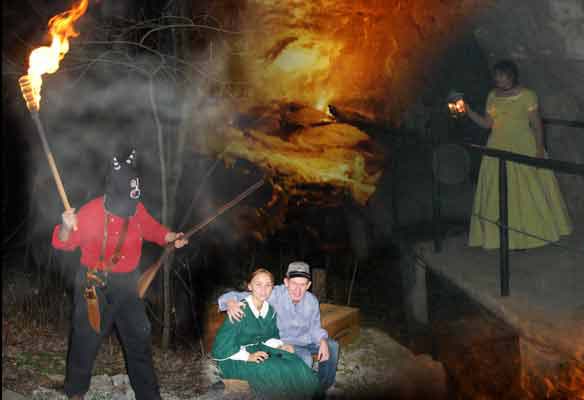 Historic Civil War Tours
Includes a traditional "on the trail" dinner of ham and beans, cornbread, and fried potatoes. Dinner is served around a campfire in the woods, lit by lantern-light, and served by friendly "Union and Confederate" folks!
The campfire dinner is the setting for stories and historic accounts of the Civil War era locally, and throughout the state of Missouri.
After dinner, the guests will enjoy a mysterious and beautiful lantern-lit tour through Smallin Civil War Cave. But guests beware...sometimes those darned Baldknobbers make an appearance!
The total tour length is approximately 2 hours. The Civil War Lantern tours are held each year on Saturday evenings throughout the month of October, from 7:00 p.m. to approximately 9:00 p.m. Spots on the tours are limited, so guests must schedule their tours and place a deposit in advance. Call the Smallin Civil War Cave gift shop for prices and details!